Zed & Co - Bristol Lettings
Bristol Lettings at Zed & Co
Property Lettings in Bristol
Landlords/Investors




Here at Zed & Co, we ourselves are buy to let investors as well as running a successful letting agency. We know which properties let quickly and can help both new and experienced investors make the right purchase decisions.
Uniquely, we offer a guided tour of selected properties and we are prepared to share our "insider" knowledge with you to fast track the development of your portfolio.
We can help you:
Secure the best yields – finding high rental income properties compared to the purchase price

Discover the types of property and the locations which are in strong tenant demand
Uncover developments where you can secure a substantial discount on the purchase price
Our advice is without obligation, as we are confident that you will invest wisely and join our portfolio of satisfied landlord clients.
We offer a range of services including Fully Managed ,Tenant Find plus and Rent Collection. We can provide leaflets on a range of insurance products to protect your property and insurance against non-payment of rent. We can allso offer a rent garantee scheme.
Tenants
We have properties for rent in the Bristol area including houses and flats. If you are looking for rented accommodation in Bristol and surrounding areas. The lettings market moves quickly so it is best to register with us a month before you need to move into your new rented house or flat. we can provide you leaflets on tennants insurance to protect you.
Office Information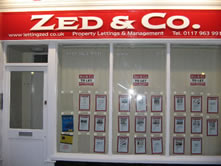 11 East Street
Bedminster
Bristol
BS3 4HH
Tel: 0117 963 9911
Fax: 0117 963 9955
For Landlord and Tenant Insurance Services, please click below.